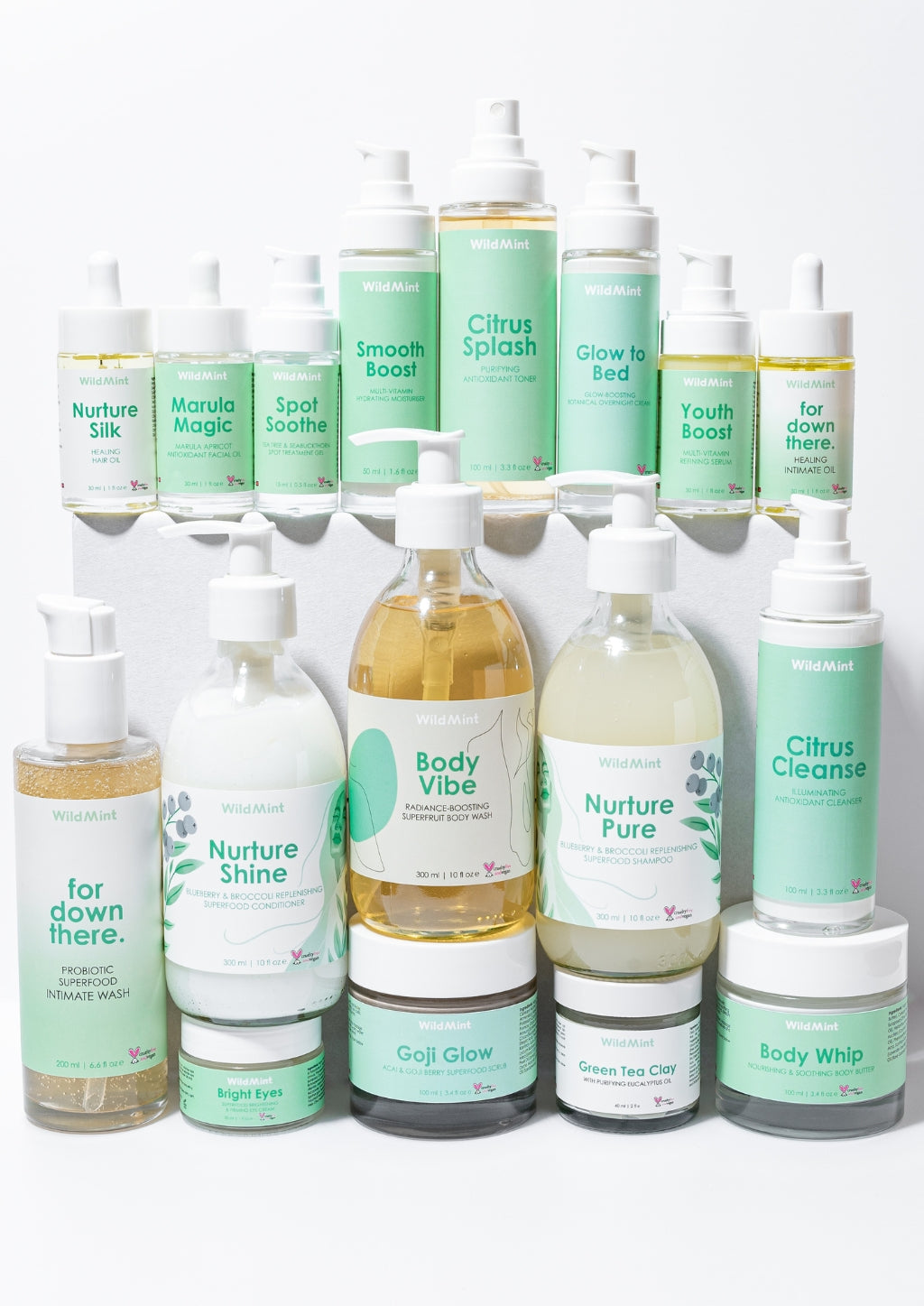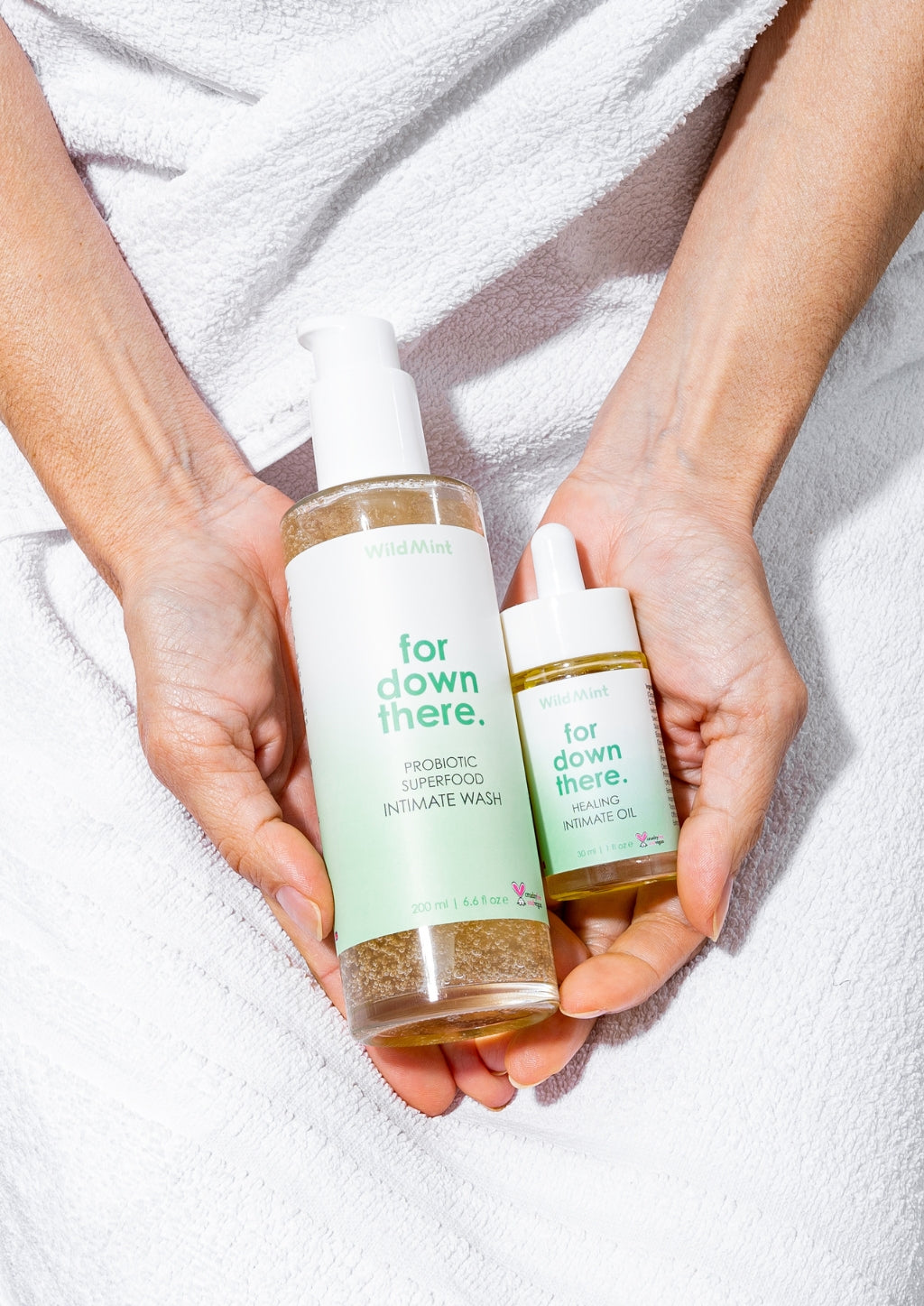 The Super Wild Bundle
The complete collection of your WildMint favourites.
🟠 The Super Wild Bundle has now sold out, but more stock is expected to arrive late January.
17 full-sized superfood products for your face, body, hair, and intimate area! Get super wild and treat yourself with everything you need for a deluxe self-care routine.

Grab all you need:  body wash, body butter, eye cream, cleanser, toner, night cream, scrub, mask, intimate oil, intimate wash, facial oil, shampoo, conditioner, hair oil, moisturiser, spot treatment and serum.

The complete bundle to nourish, exfoliate, detox, and moisturise your entire body! Combining your daily essentials into one boosting routine for a visibly smooth, balanced and clear complexion!
*Packaging may vary slightly due to availability. 
17 full-sized skincare and haircare unique products.
Treat and pamper your body with skin-loving plant-based ingredients.
SLS-free superfood shampoo and conditioner to nourish and protect your hair.
Restores intimate areas and prevents irritation, itchiness, ingrown hairs or razor burn.
Adds radiance to your complexion, calms redness, & helps to fade marks and scars.
We don't recommend using all these products in one session, as this can be overpowering. Whichever products you choose to use in one go, here is our recommended order to get the best results. Please click on each individual product for more details.


Skincare
Step 1: Citrus Cleanse

Apply a small amount to damp skin and massage gently in a circular motion. Rinse with warm water and pat dry with a clean, dry towel. Use twice daily.

Step 2: Goji Glow

Apply scrub evenly to wet, freshly cleansed skin and massage gently in a circular motion, avoiding the eye and vulva area. Rinse with warm water and a clean towel. Use 1-3 times per week.

Step 3: Green Tea Clay

Massage an even layer to cleansed skin or apply with a mask brush. Avoid the eye area. Kick back and relax for 10-15 minutes. Once the mask has dried, gently remove with lukewarm water and a clean towel. Use 2-3 times per week.

Step 4: Citrus Splash

Spray your tonner all over your freshly cleansed face and neck, avoiding the eye area. Allow to air dry or gently pat dry with fingertips. You can also apply using a clean cotton pad, spritzing directly onto the pad and sweeping over your entire face and neck. Use twice daily.

Step 5: Youth Boost

Apply a small amount (pea size) of your Youth Boost evenly to cleansed skin. Gently pat your face and neck with your fingertips until the serum is completely absorbed. Use twice daily.

Step 6: Marula Magic

Apply 1-4 drops of the oil to your palms or directly to your freshly cleansed skin and smooth evenly over your face and neck. Massage gently. It's the perfect time to do face yoga with your Gua Sha. Use twice daily.

Step 7: Smooth Boost 

Apply a small amount (pea size) to freshly cleansed skin morning and night. Use twice daily or as needed on face and neck for best results.

Step 8: Glow to Bed

Smooth over face and neck evenly in an upwards motion each evening before bedtime to freshly cleansed, treated skin. Use daily.

Step 9: Bright Eyes

Start by taking a small amount of eye cream and dotting it across the under-eye area, gently tapping the cream as you go. Apply the excess cream onto your eyelid or surrounding eye area. Avoid getting product into your eyes. Use morning and night.

Step 10: Spot Soothe 

Apply a thin layer to the affected area 1-2 times per day.

Haircare

Step 1: Nurture Silk

Part your hair and apply a liberal amount directly to your scalp. Gently massage with your finger tips to stimulate your follicles and apply across your hair from root to tip. Leave in for 30 minutes or overnight to maximise results. Wash hair as usual. Use 1-2 times per week.

Step 2: Nurture Pure

Apply to damp hair, work through from root to tip creating a lather. Rinse, then follow with the Blueberry and Broccoli Replenishing Conditioner. 

Step 3: Nurture Shine

Apply to damp and clean hair, work through from the middle of the hair to the ends, and wash off. For best results, leave in for a few minutes before rinsing.

Intimate Care

Step 1: Intimate Wash

Apply 1-2 pumps to clean hands and create a gentle lather. Distribute on your vulva (the skin surrounding your vaginal opening). Do not apply the product inside the vagina. Rinse off thoroughly with lukewarm water. Pat dry with a towel before following up with your Oil. Suitable for daily use.

Step 2: Intimate Oil

Apply a few drops to clean fingertips. Gently massage onto intimate areas (vulva, bikini line, or anywhere else with irritation). For best results, use daily or after shaving to improve smoothness and reduce dryness.

Body Care

Step 1: Body Vibe

For daily shower use. Massage all over your body and rinse thoroughly.

Step 2: Body Whip

Apply daily or as needed to rough or dry skin. Smooth a generous amount evenly onto damp skin after showering for best results.
Please click on each individual product to view the ingredients: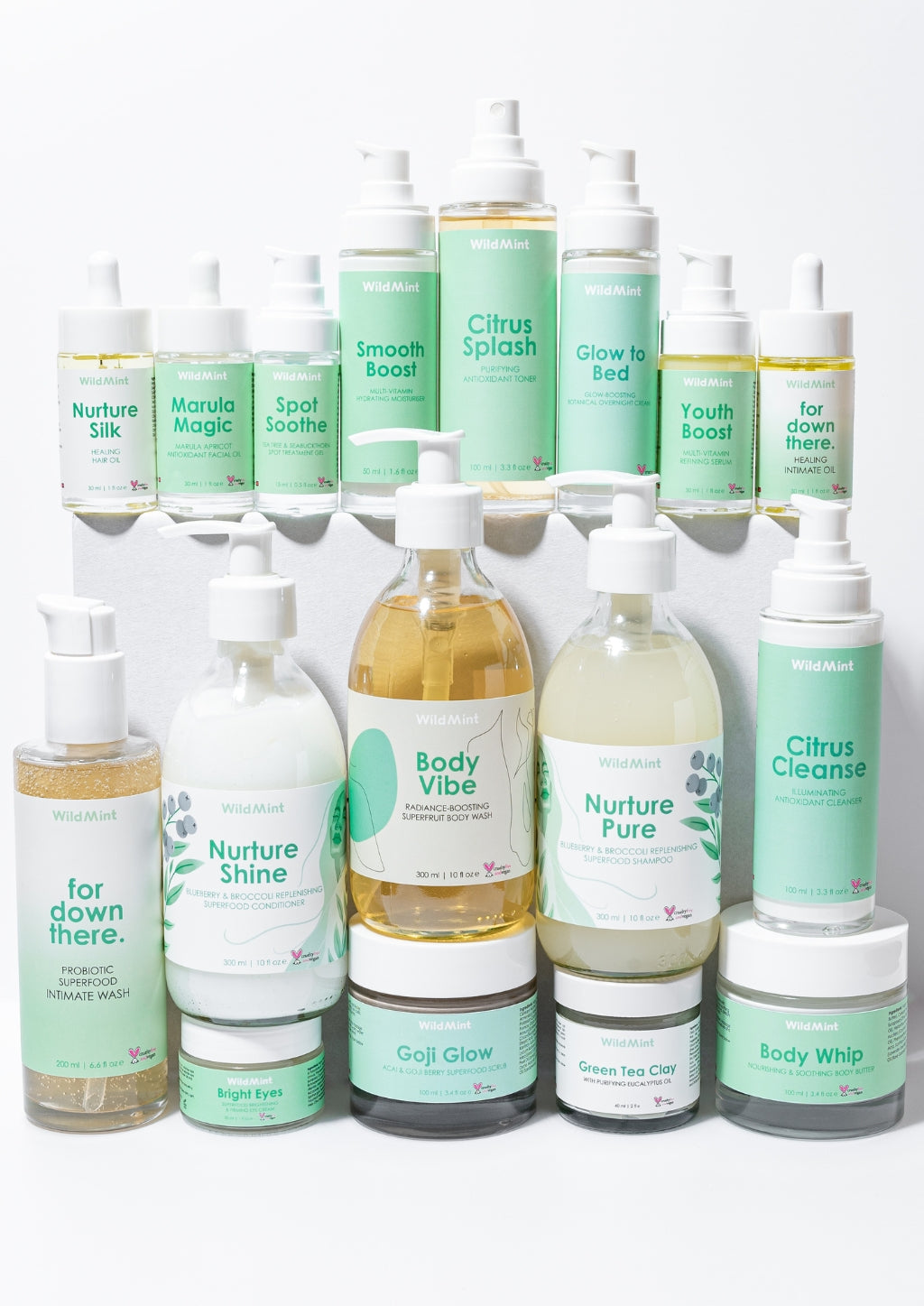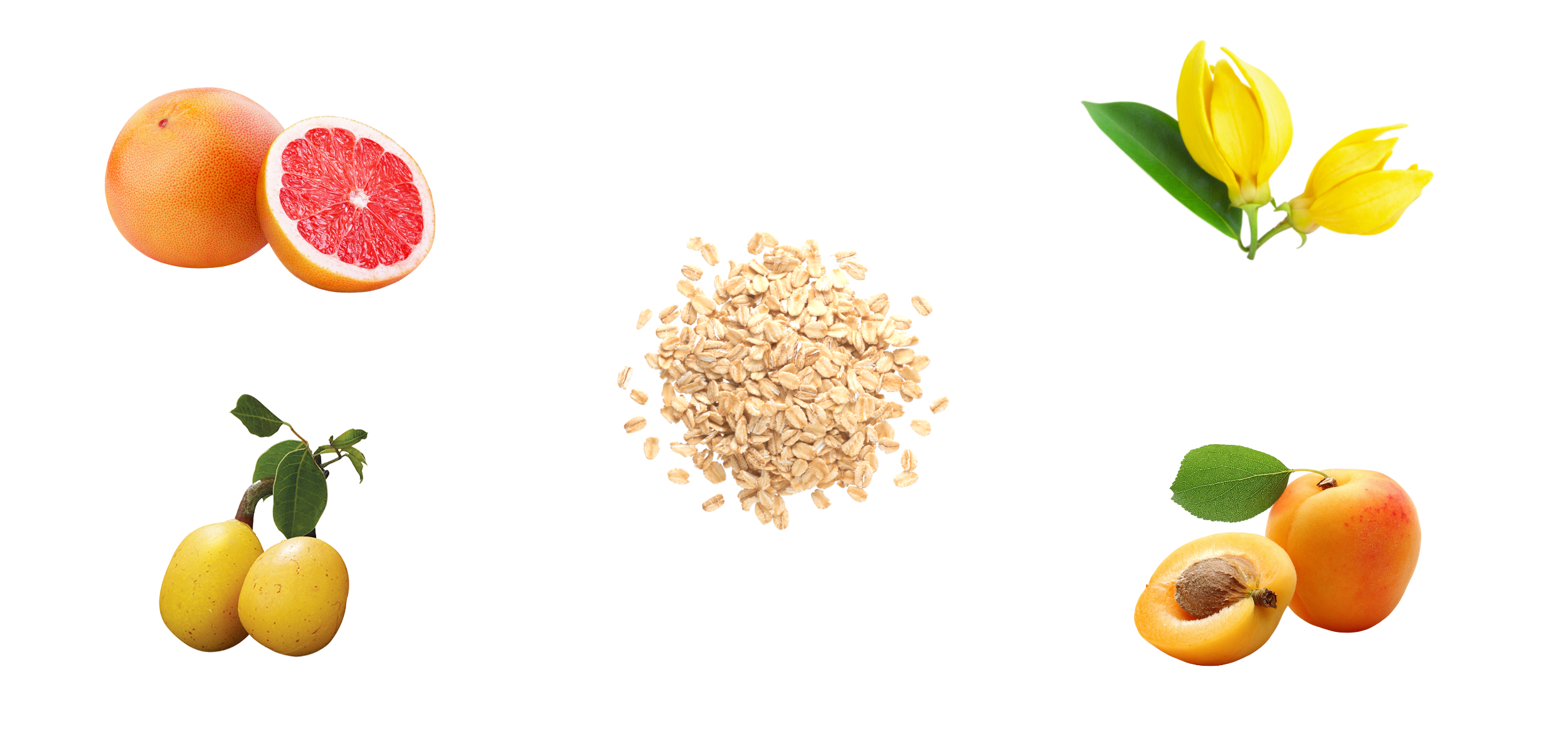 Grapefruit Peel Oil
Naturally astringent and anti-inflammatory, grapefruit clarifies and brightens skin, destroys acne-causing bacteria and regulates the build-up of oil in the pores.
Ylang Ylang Oil
This relaxing healing oil helps to reduce skin irritation and redness, fade acne scars and dark spots, and promotes a smoother, more even-toned complexion.
Oat Silk
Moisturising and calming, oats help soothe skin and relieve redness, itching and irritation. Provides an immediate brightening effect with a matte finish.
Marula OIl
This highly-absorbable oil nourishes as well as helps reverse signs of aging and skin damage with its potent mix of antioxidants, essential fatty acids and vitamins.
Apricot Kernel Oil
This nourishing oil contains skin softening properties that enhance skin elasticity and support natural moisture balance.
This product has no reviews yet.