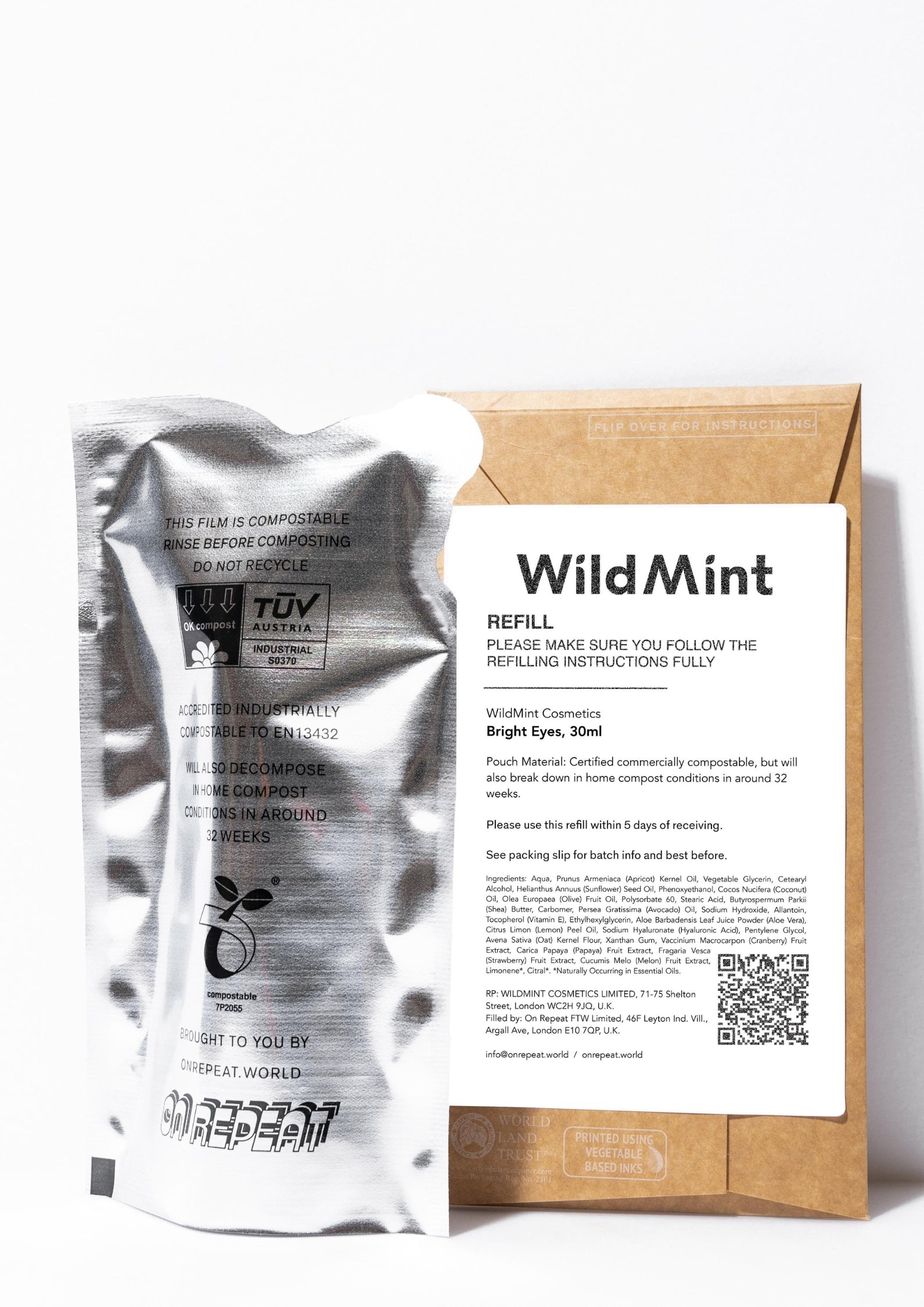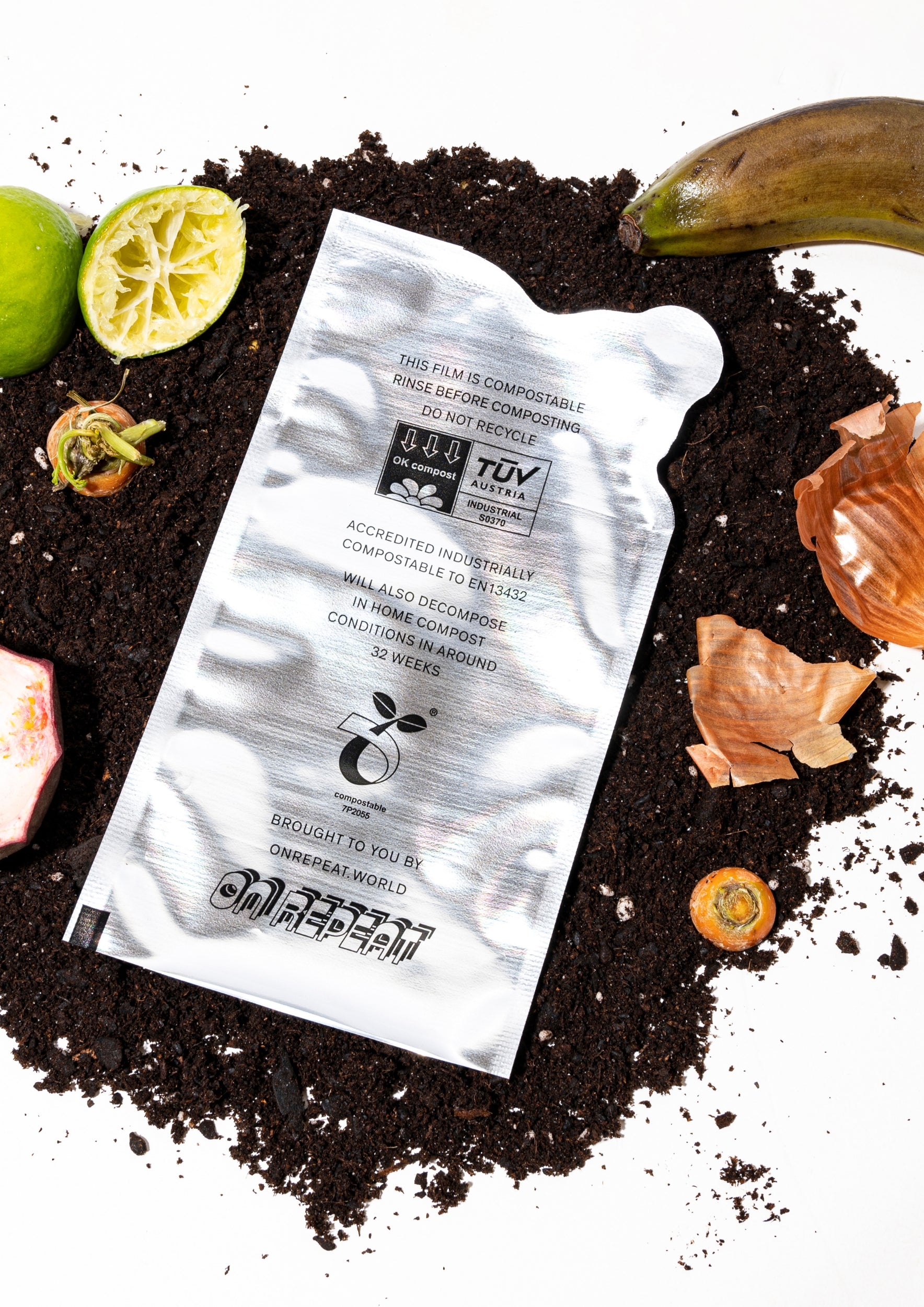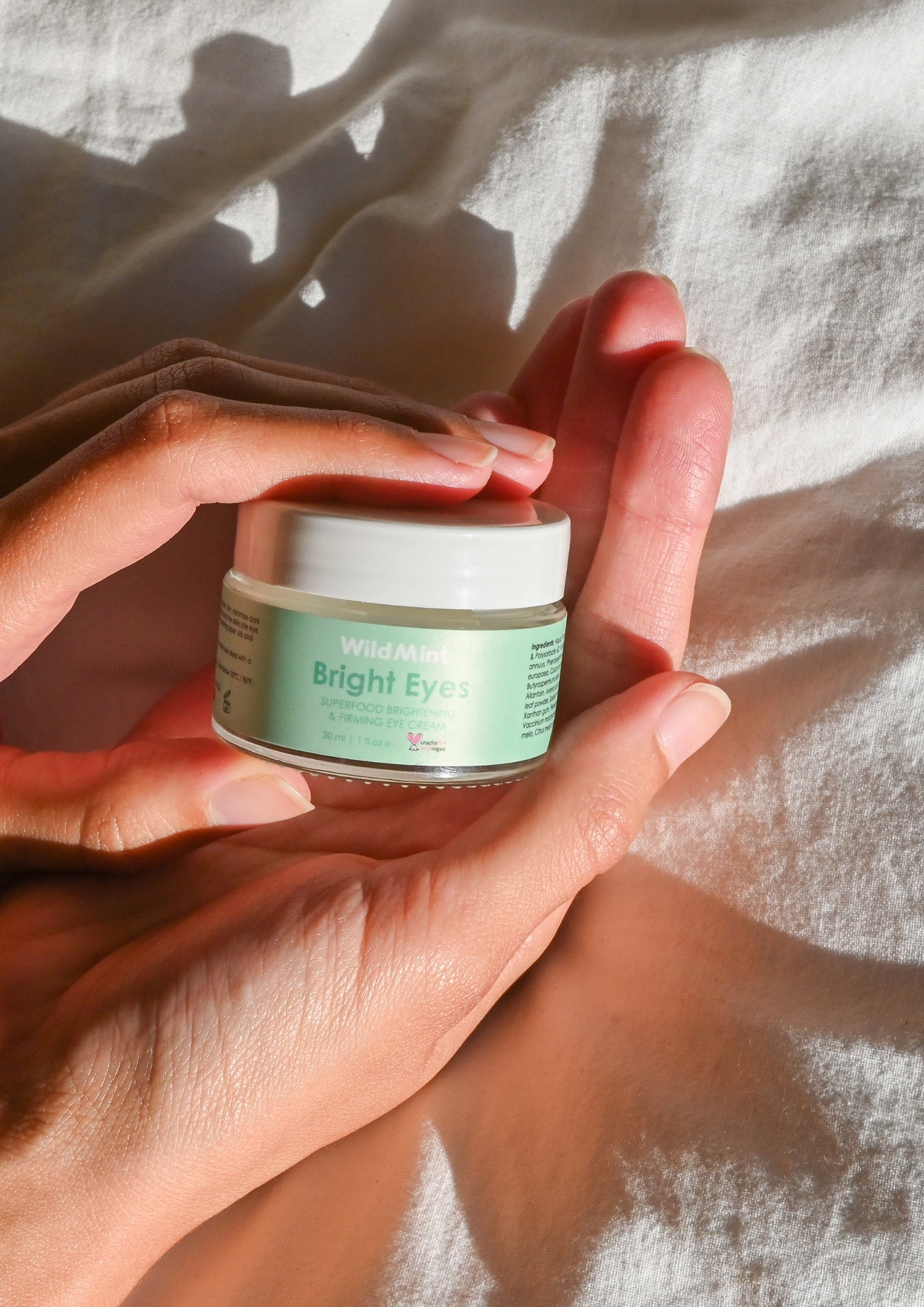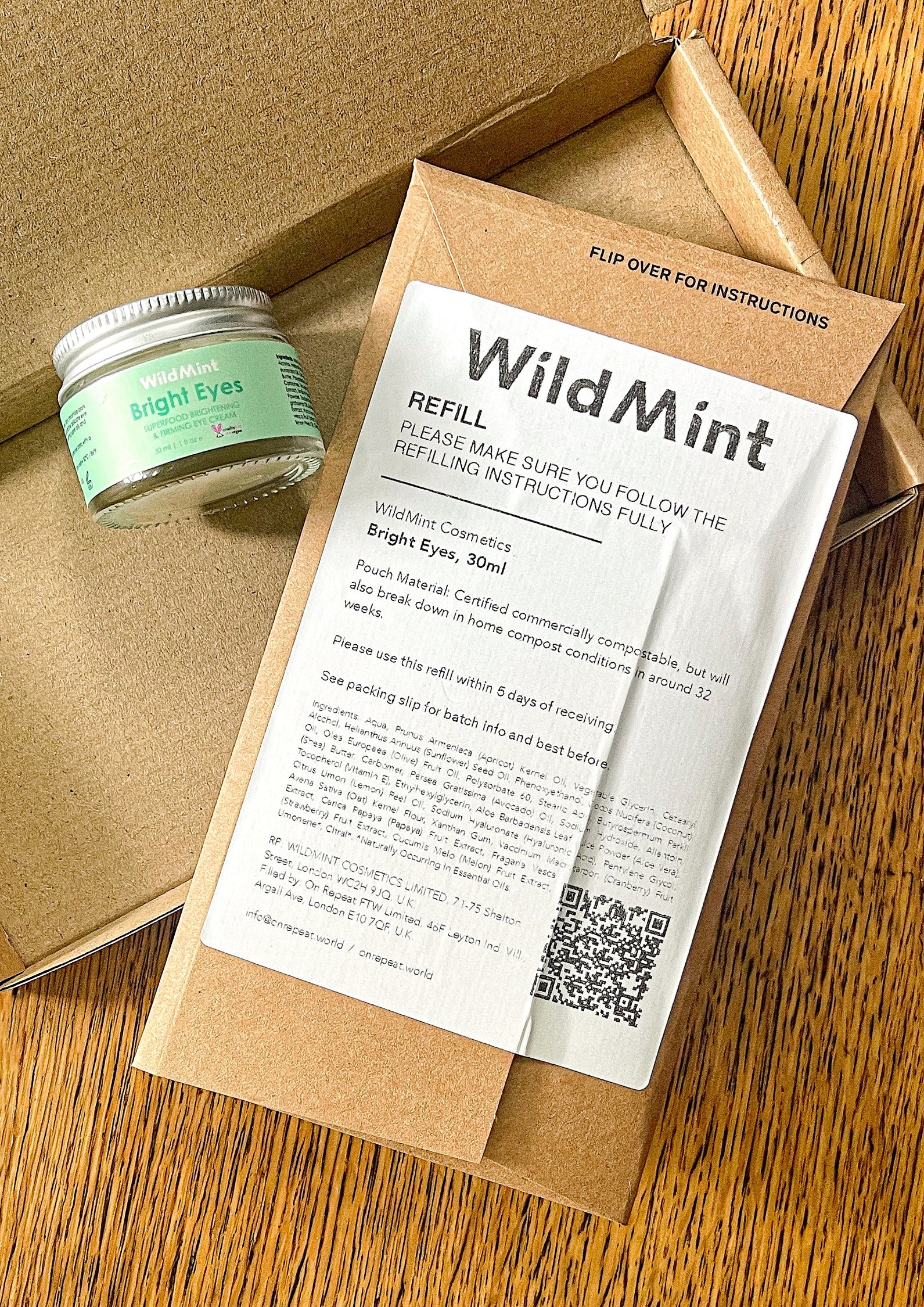 Bright Eyes BioRefill
A sustainable compostable pouch to top-up your favourite products.
Currently only available in the UK.
Our refills are composed of two parts, an inner certified compostable pouch made from a cellulose composite (bioplastic) and a 100% recyclable cardboard sleeve.
The inner pouches are planet-friendly and easy to use. They are not meant for storage, but just as a product transportation method. 
Please decant the refills within 5 days of receiving them.
Once used, the pouches will decompose in home compost in around 32 weeks. The cardboard sleeve can be recycled or composted at home.
Order the regular 30ml Bright Eyes. After enjoying your product, make sure you rinse and dry the empty glass jar to prepare for a refill! To top-up, place an order for a biodegradable refill. Your pouch will be filled on the same day and posted through your letterbox.
Refills will be sent separately to our other products. This is due to the special 'fill on demand' method used with our refills.
Made with 100% compostable materials.
Minimises packaging waste.
Eliminates single-use plastic.
Reduces carbon emissions, water use, and waste.
Small enough to be posted through your letterbox.
Helps create a more sustainable future for our planet.
* Decant the refill within 5 days of receiving it.

1. Wash your existing glass jar and make sure it's dry before refilling.

2. Remove the inner silver pouch from the cardboard sleeve.

3. Snip the spout close to the tip (not too far down).

4. Insert the spout into the neck of the jar and squeeze.

5. Twist the lid securely and enjoy!
Rinse out the inner pouch and place it in your garden waste or home compost. The cardboard sleeve can also be torn up and composted at home.

If the first options are not available, dispose of the pouch in general waste, and the cardboard sleeve in your recycling bin.
Aqua, Prunus Armeniaca (Apricot) Kernel Oil, Vegetable Glycerin, Cetearyl Alcohol, Helianthus Annuus (Sunflower) Seed Oil, Phenoxyethanol, Cocos Nucifera (Coconut) Oil, Olea Europaea (Olive) Fruit Oil, Polysorbate 60, Stearic Acid, Butyrospermum Parkii (Shea) Butter, Carbomer, Persea Gratissima (Avocado) Oil, Sodium Hydroxide, Allantoin, Tocopherol (Vitamin E), Ethylhexylglycerin, Aloe Barbadensis Leaf Juice Powder (Aloe Vera), Citrus Limon (Lemon) Peel Oil, Sodium Hyaluronate (Hyaluronic Acid), Pentylene Glycol, Avena Sativa (Oat) Kernel Flour, Xanthan Gum, Vaccinium Macrocarpon (Cranberry) Fruit Extract, Carica Papaya (Papaya) Fruit Extract, Fragaria Vesca (Strawberry) Fruit Extract, Cucumis Melo (Melon) Fruit Extract, Limonene*, Citral*. *Naturally Occurring in Essential Oils.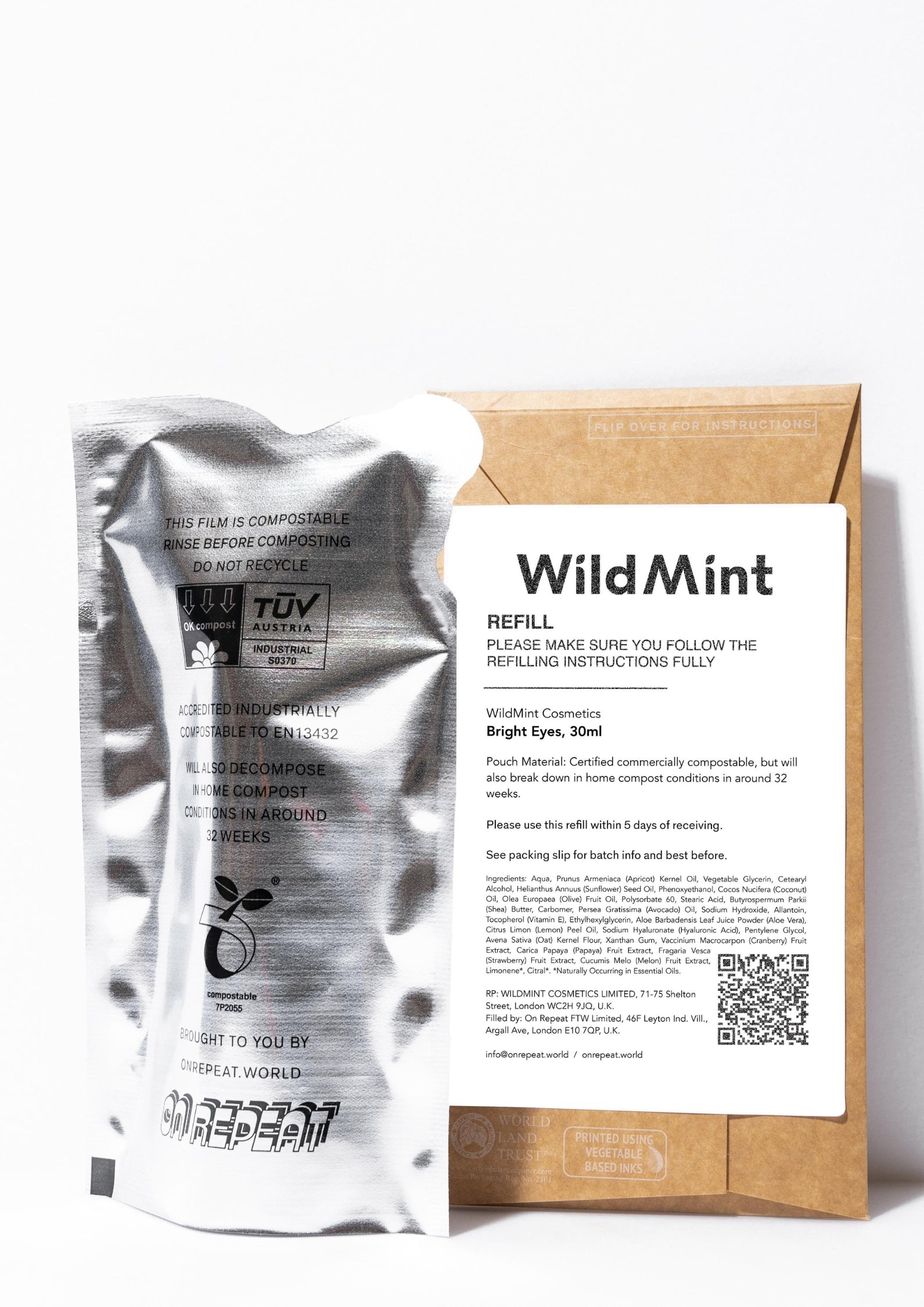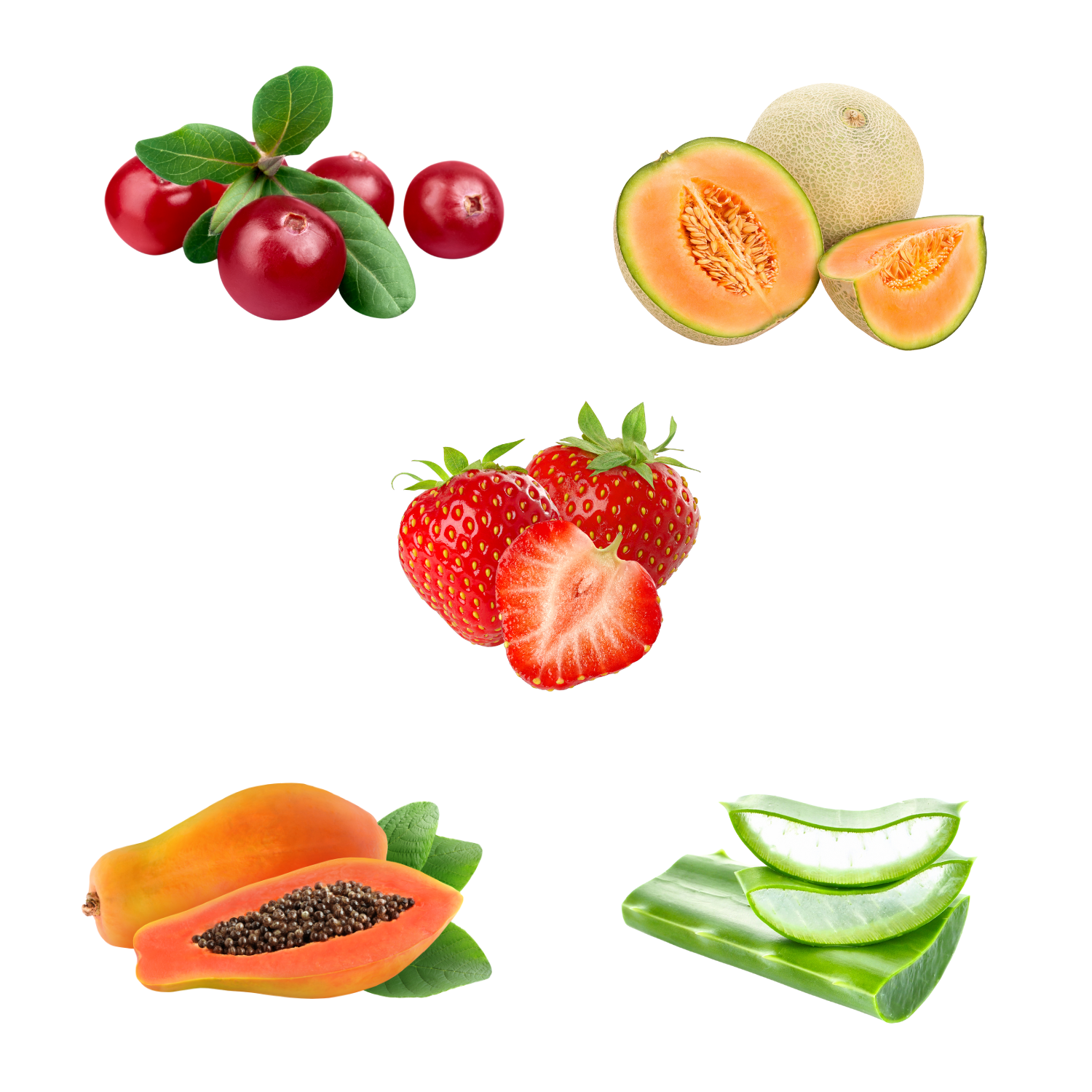 Cranberry Seed Oil
Containing equal parts omega 3, 6 and 9, cranberry seed oil has the ability to soak deep into skin tissue where it strengthens and replenishes the natural barrier against environmental stressors.
Melon Extract
A natural toner and potent antioxidant. Contains essential vitamins and nutrients that leave skin looking visibly brighter and smoother.
Strawberry Extract
Protects against environmental damage, interrupts the pathway that leads to skin colour changes, and inhibits enzymes that cause collagen breakdown.
Papaya Extract
Rich in enzymes that break down inactive protein, papaya is a gentle exfoliant that improves elasticity and softens the skin. 
Aloe Vera
Famous for its soothing and healing properties, aloe vera helps relieve irritation, locks in moisture, and smoothes and softens skin.
This product has no reviews yet.