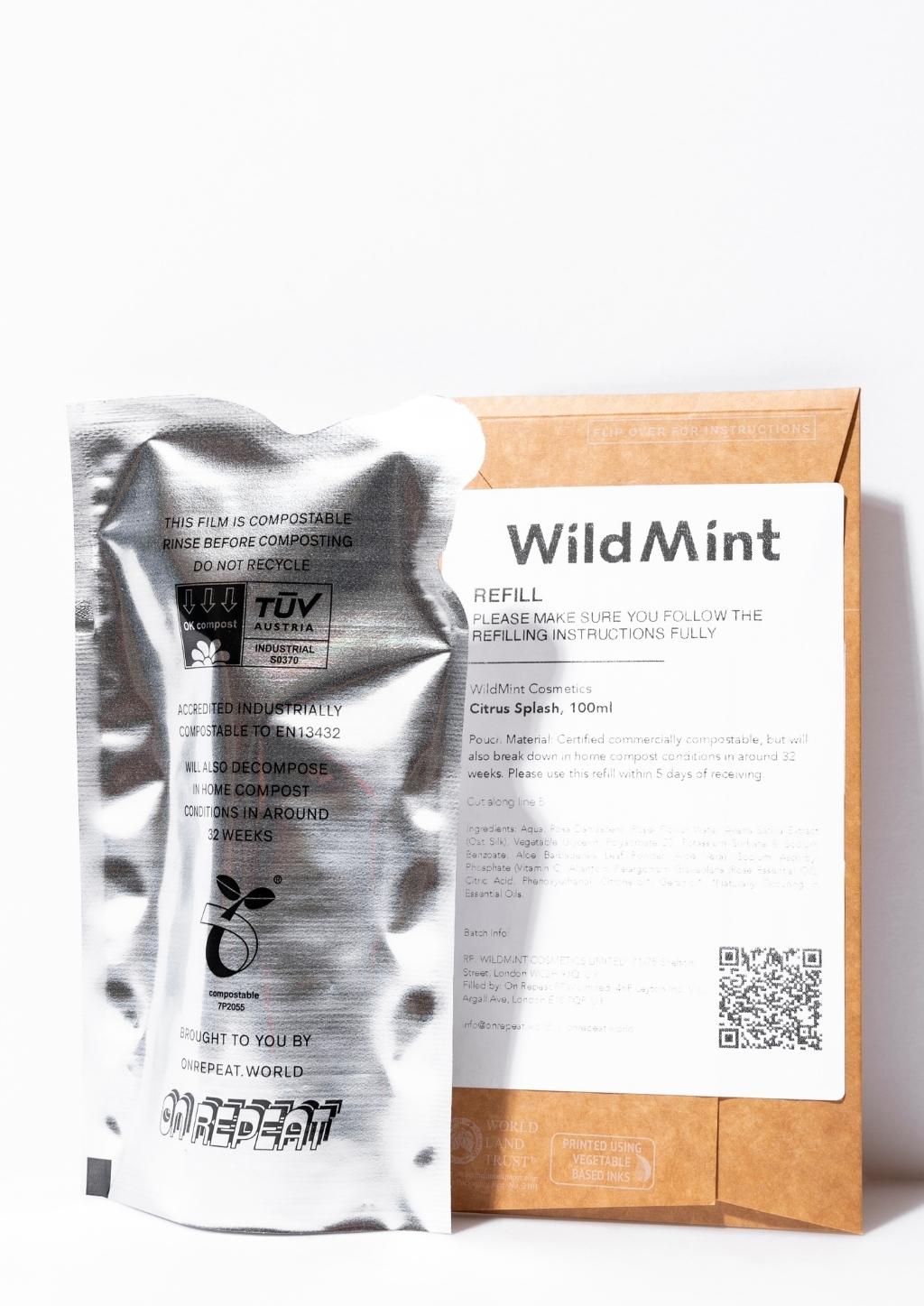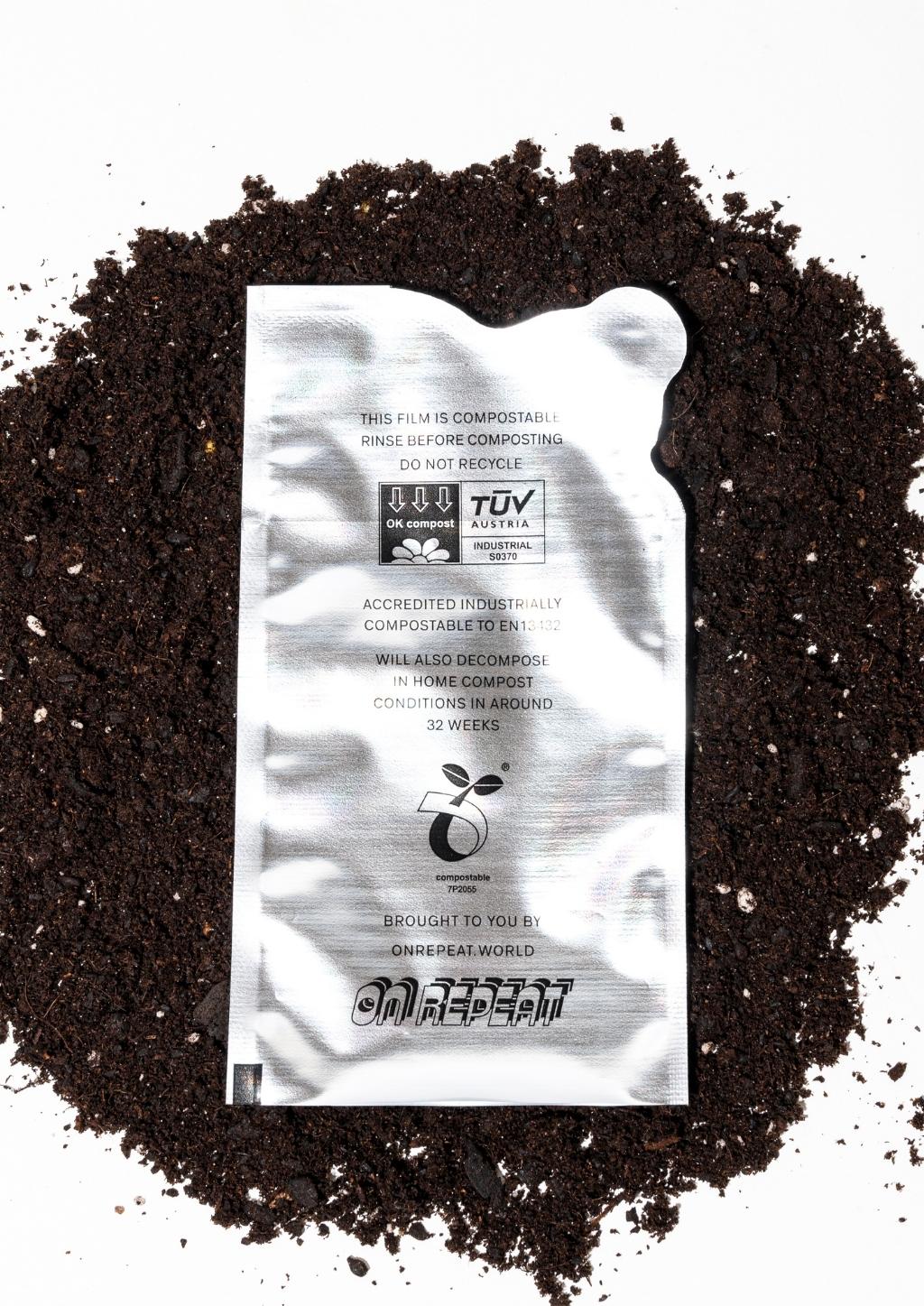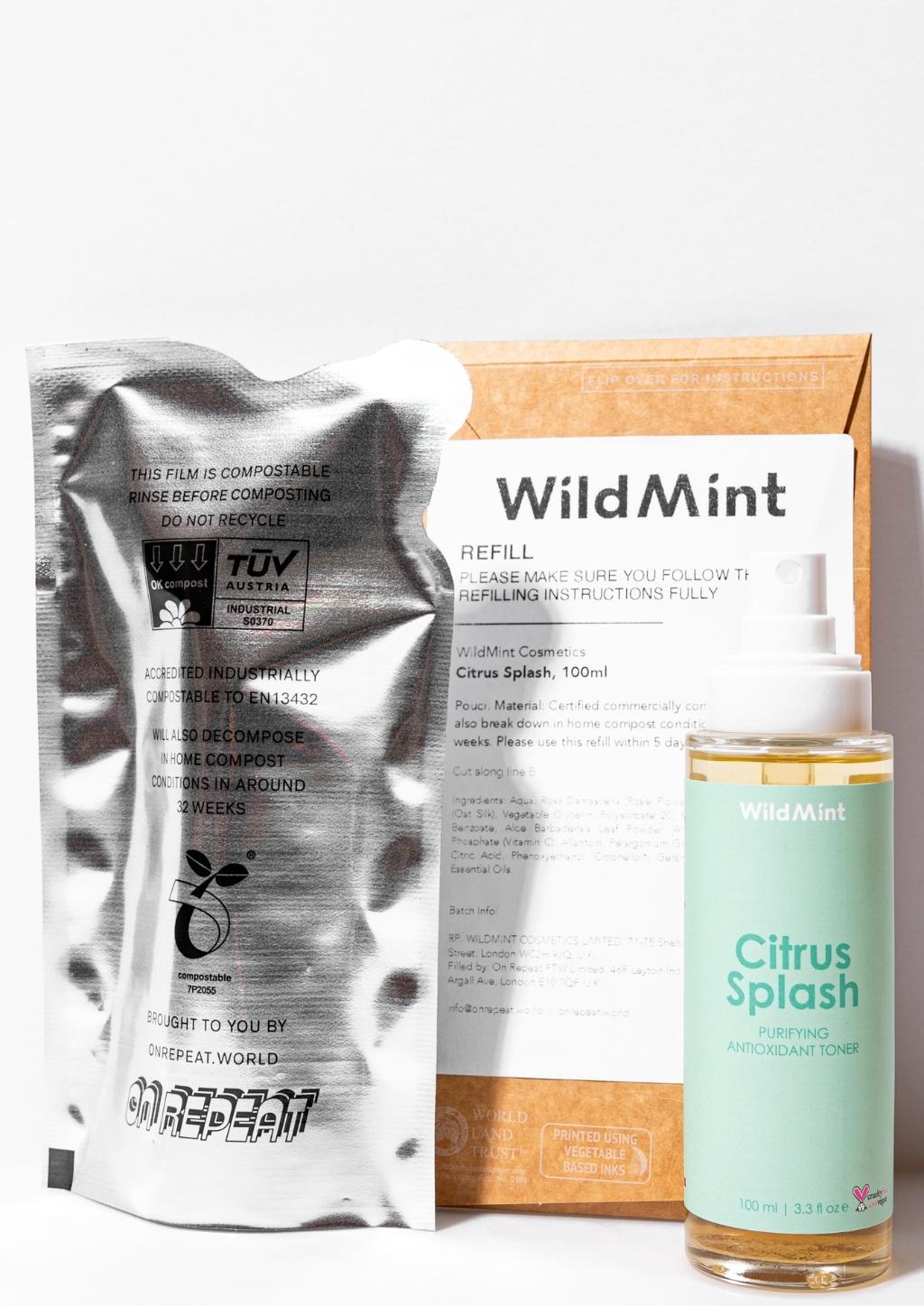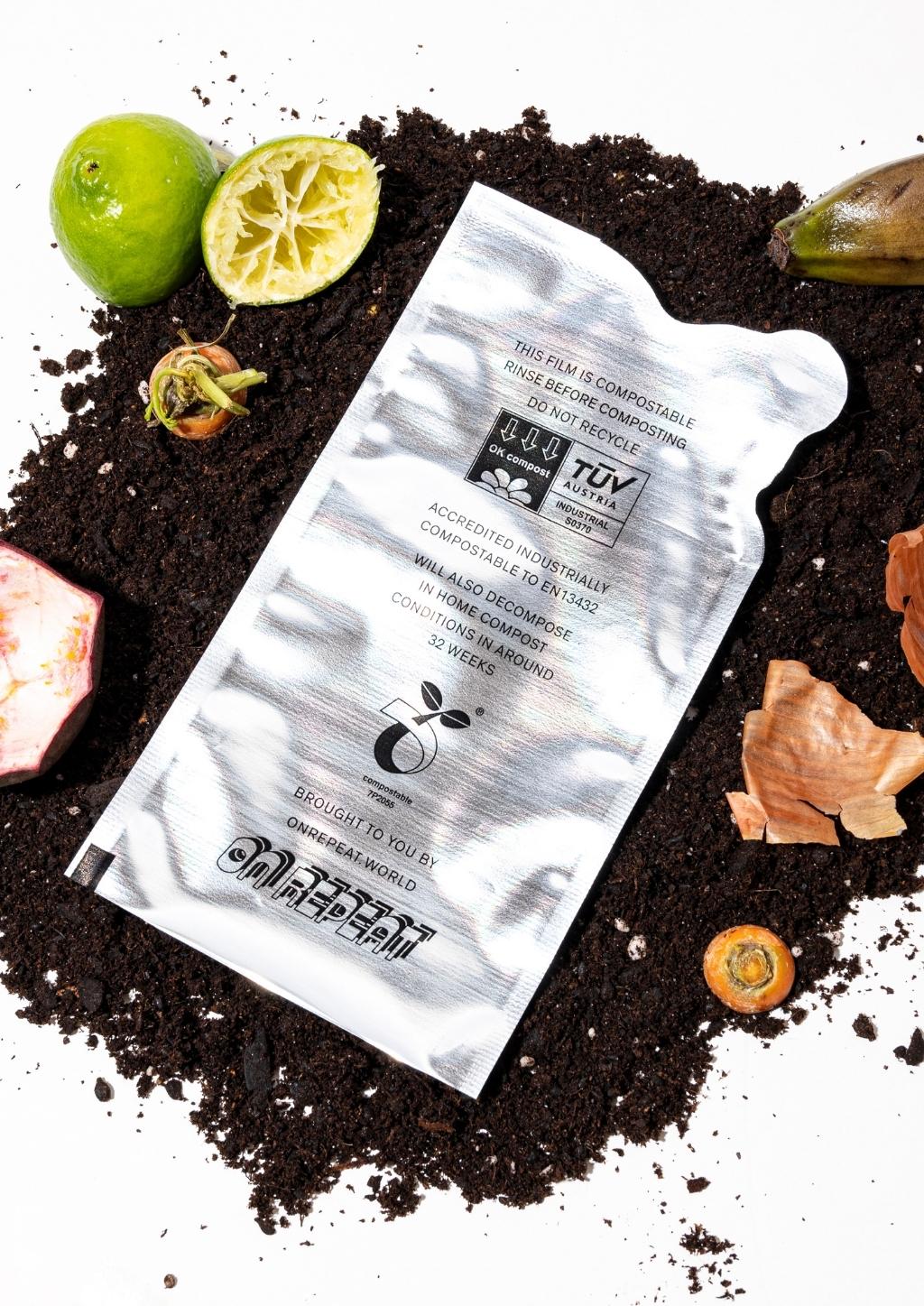 Citrus Splash BioRefill
A sustainable compostable pouch to top-up your favourite products.
Currently only available in the UK.
Our refills are composed of two parts, an inner certified compostable pouch made from a cellulose composite (bioplastic) and a 100% recyclable cardboard sleeve.

The inner pouches are planet-friendly and easy to use. They are not meant for storage, but just as a product transportation method.

Please decant the refills within 5 days of receiving them. 
Once used, the pouches will decompose in home compost in around 32 weeks. The cardboard sleeve can be recycled or composted at home.

Order the regular 100ml Citrus Splash. After enjoying your product, make sure you rinse and dry the empty glass bottle to prepare for a refill! To top-up, place an order for a biodegradable refill. Your pouch will be filled on the same day and posted through your letterbox.

Refills will be sent separately to our other products. This is due to the special 'fill on demand' method used with our refills.

100ml | 3.3 fl oz

Made with 100% compostable materials.
Minimises packaging waste.
Eliminates single-use plastic.
Reduces carbon emissions, water use, and waste.
Small enough to be posted through your letterbox.
Helps create a more sustainable future for our planet.
* Decant the refill within 5 days of receiving it.

1. Wash your existing glass bottle and make sure it's dry before refilling.

2. Cut the cardboard wallet at line B.

3. Pinch the opening together and hold it above the neck of the bottle.

4. Once aligned on top, release the opening and fill up.

5. Twist cap securely and enjoy!

How to dispose: 

Rinse out the inner pouch and place in your garden waste or home compost. The cardboard sleeve can also be torn up and composted at home.

If the first options are not available, dispose of the pouch in general waste, and the cardboard sleeve in your recycling bin.
Aqua, Rosa Damascena (Rose) Flower Water, Glycerin, Polysorbate 20, Phenoxyethanol, Allantoin, Sodium Benzoate, Pelargonium Graveolens (Rose Geranium) Oil, Potassium Sorbate, Aloe Barbadensis Leaf Juice Powder (Aloe Vera), Citric Acid, Sodium Ascorbyl Phosphate (Vitamin C), Avena Sativa (Oat) Kernel Extract, Citronellol*, Geraniol*, Linalool*, Citral*, Limonene*. *Naturally Occurring in Essential Oils.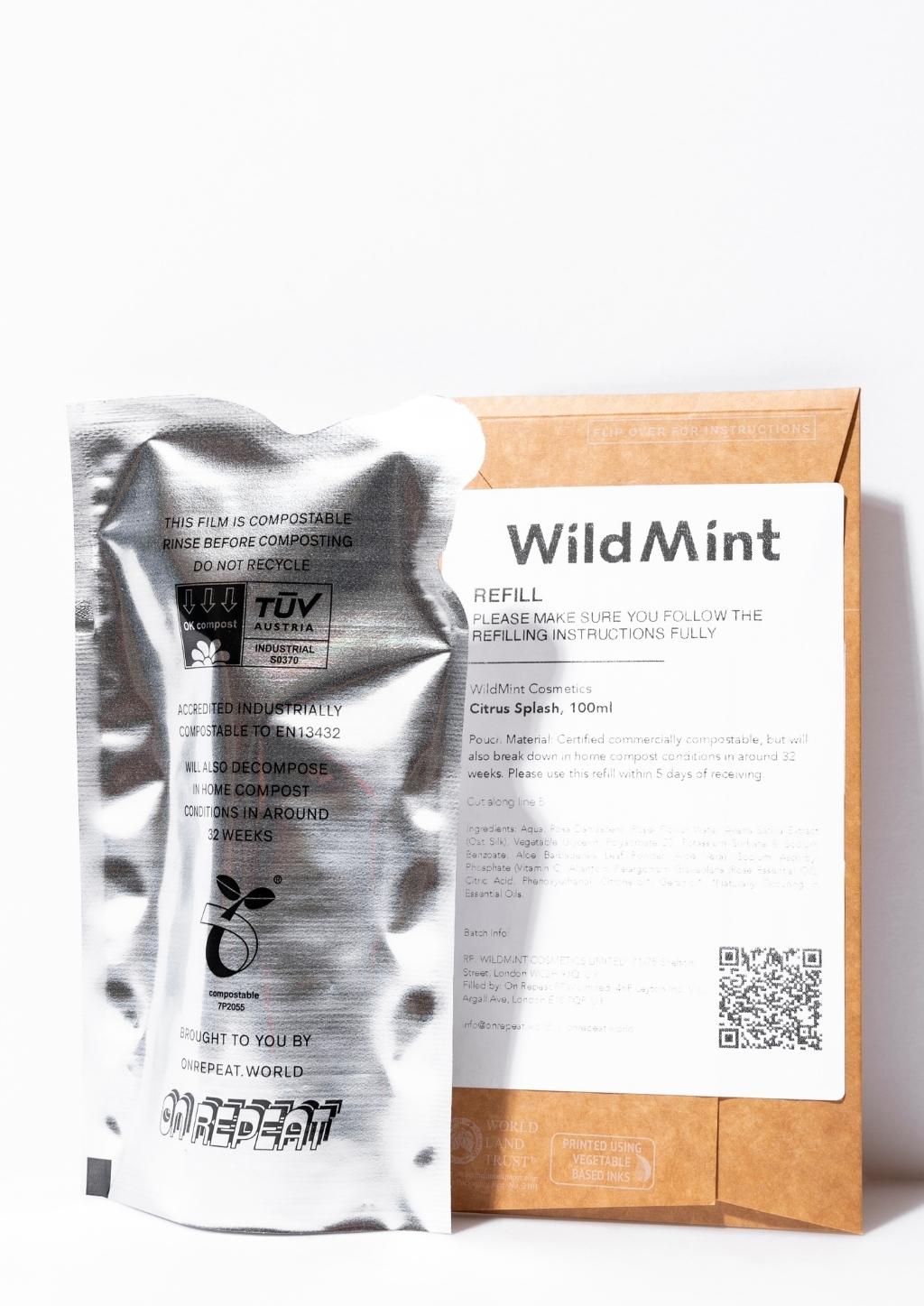 Vitamin C
This potent antioxidant and collagen-boosting ingredient smooths, firms and plumps for a more vibrant, youthful complexion.
Rose Flower Water
Containing potent antioxidants, rose water balances and hydrates the skin. Anti-inflammatory and calming for sensitive skin.
Oat Silk
Helps soothe skin and relieve redness, itching and irritation. Provides an immediate brightening effect with a matte finish.
Rose Oil
Packed with vitamins, minerals, antioxidants and amino acids, rose oil has anti-inflammatory properties and helps promote radiant skin.
Aloe Vera
Famous for its soothing and healing properties, aloe helps relieve irritation, locks in moisture, and smooths and softens skin.
This product has no reviews yet.