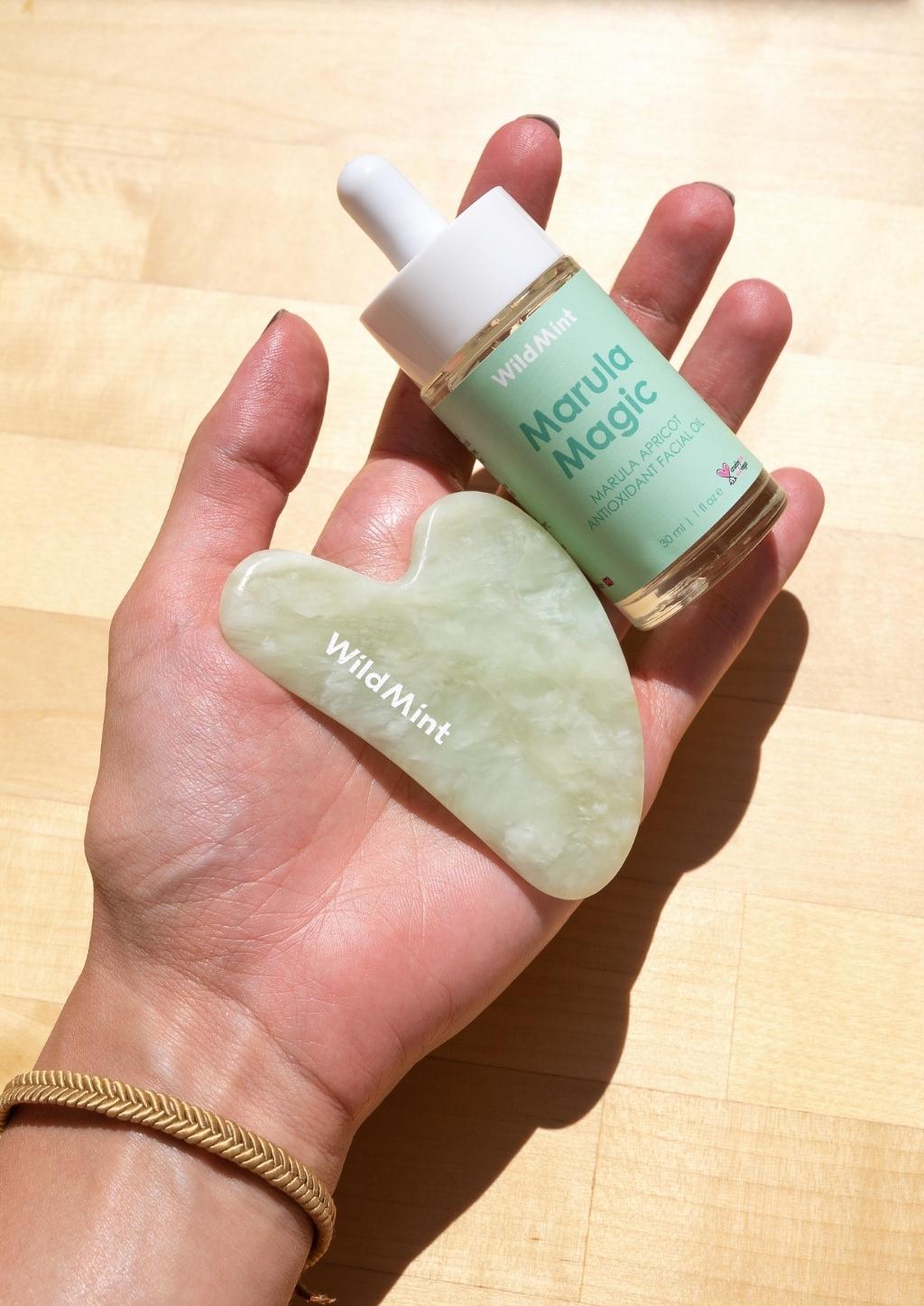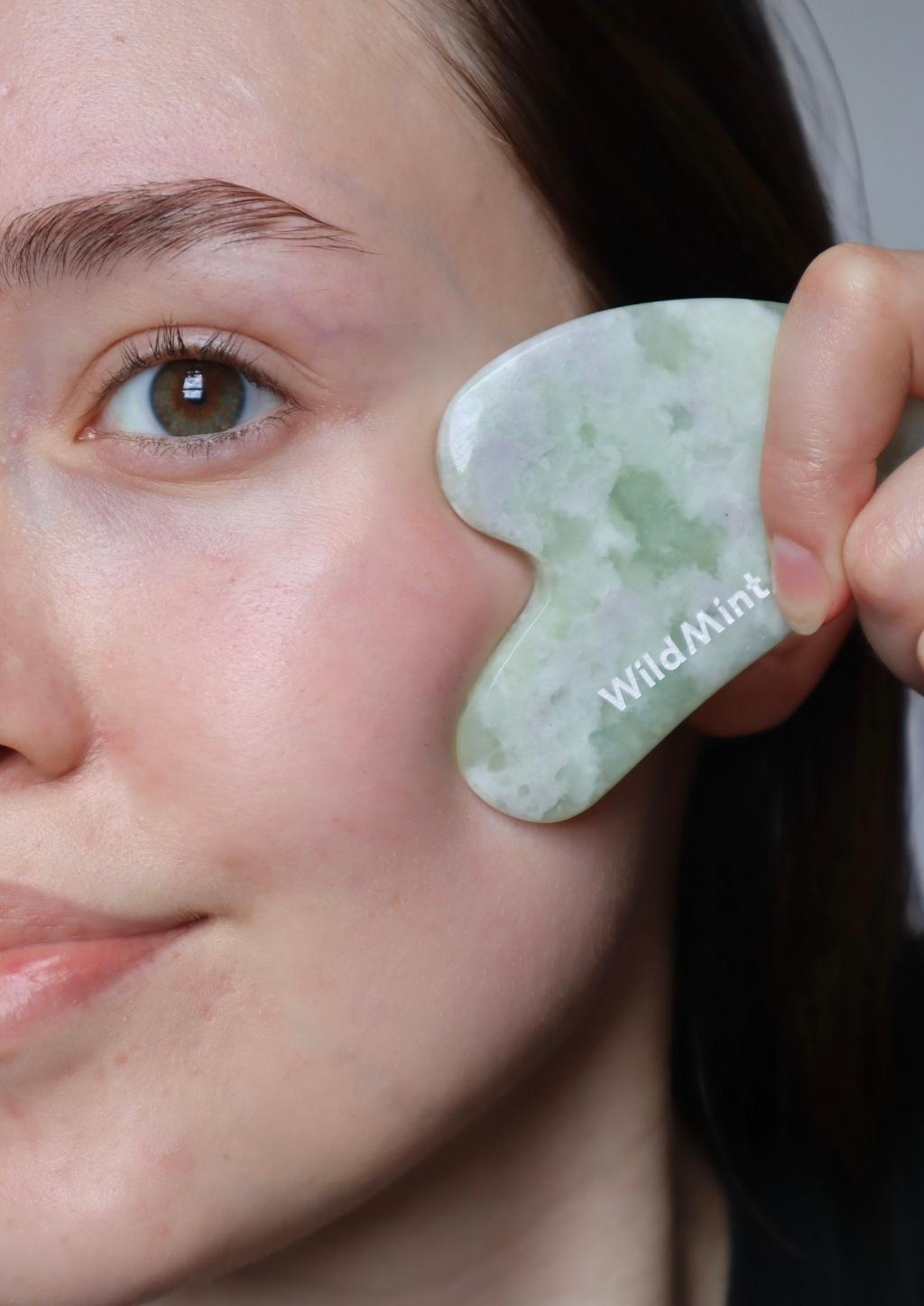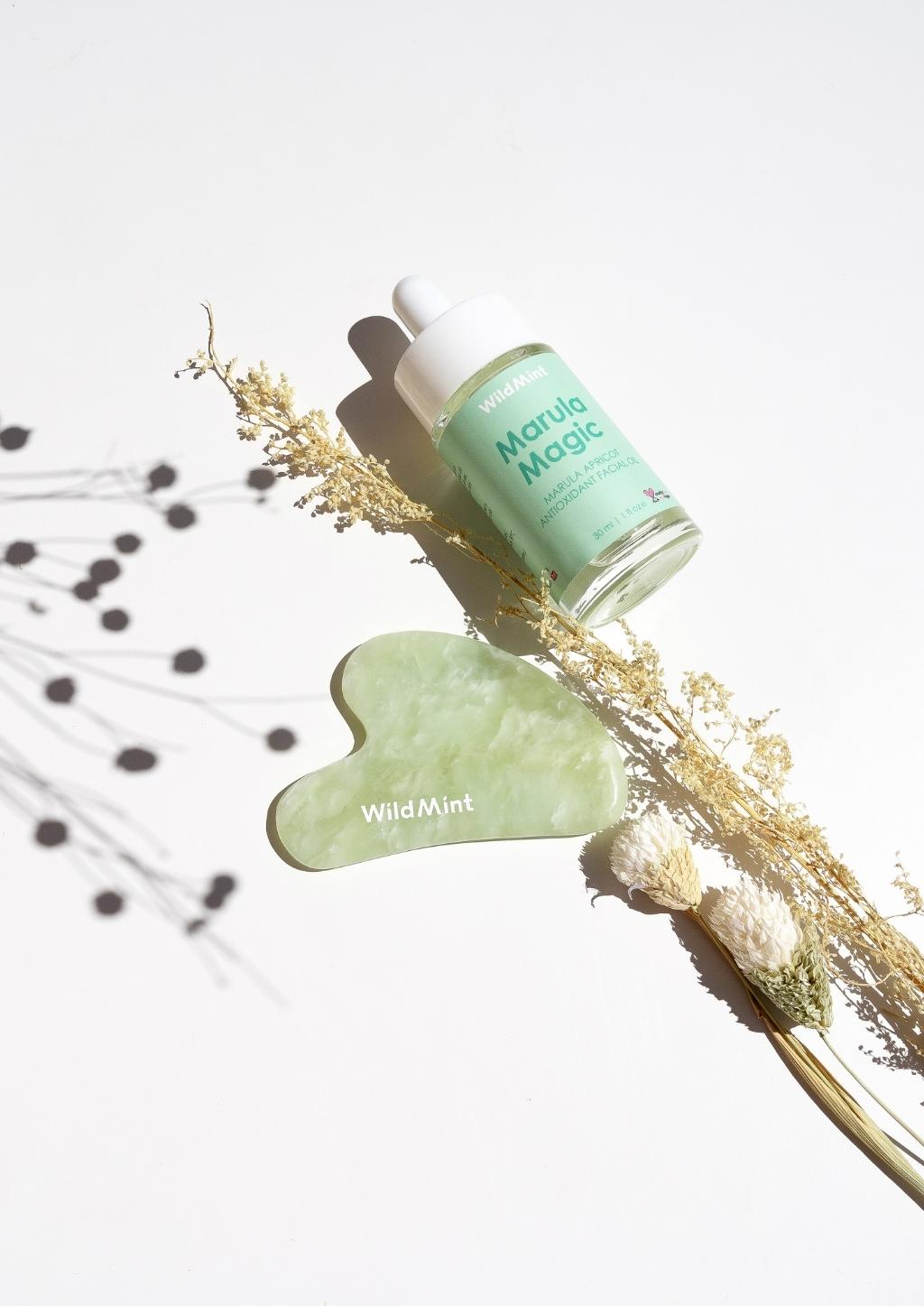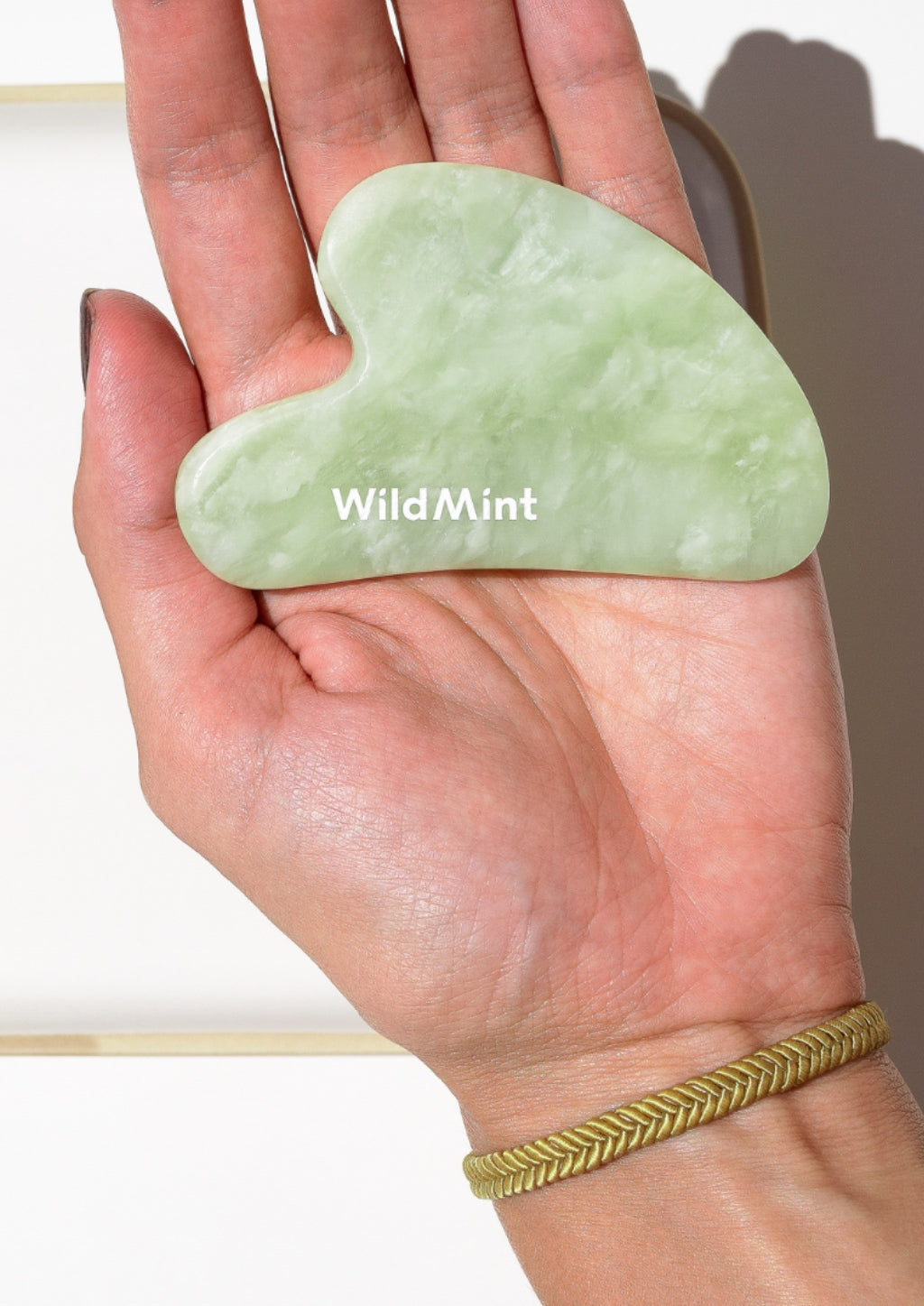 Face Yoga Duo
Sculpt and lift with gua sha & facial oil.
Originating in China, the practice of gua sha is a traditional healing method where a smooth stone is pressed along the skin to promote blood flow, lymphatic drainage and healing.

This face-sculpting gua sha & nourishing Marula Magic oil is the perfect pair for a morning facial massage. Just 5 minutes to de-puffed and glowing skin! As well as working towards a more sculpted face, the ritual of gua sha is an opportunity to connect with ourselves and practise self-care.

To calm the mind & sculpt the body, some may call it - face yoga!

Marula Magic - Apricot Antioxidant Facial Oil (30ml)

Gua Sha - Facial Tool (41 x 62 x 6 mm / 28g)
Promotes collagen production, rejuvenates skin cells & boosts skin plumpness.
Stimulates lymphatic drainage to reduce face puffiness.
Marula Magic reduces fine lines, redness and uneven skin tone.
Increases blood flow, which promotes skin healing.
A relaxing self-care practice to energise your skin.
Step 1: Prepare the skin

Apply 4-5 drops of Marula Magic Antioxidant Facial Oil to lubricate the skin.

Step 2: Massage

Gently press and glide the gua sha over the face, following your natural contours. With each stroke, work from the centre of your face and glide outwards. Try these strokes:

From the centre of the forehead, outwards, above the eyebrow.
From the nose, under the eye and along the cheekbone.
From the edge of the mouth to the bottom of the ear.
From the temples, down the edge of the face to the jawline.
From the jawline, down the neck.

Press the remaining oil into your face and allow to dry, or pat dry with a clean towel.
Gua Sha:

Xiuyan Jade.

Marula Magic:

Prunus Armeniaca (Apricot) Kernel Oil, Sclerocarya Birrea (Marula) Seed Oil, Pelargonium Graveolens (Rose Geranium) Oil, Tocopherol (Vitamin E), Boswellia Serrata (Frankincense) Oil, Helianthus Annuus (Sunflower) Seed Oil, Simmondsia Chinensis (Jojoba) Seed Oil, Rosa Damascena (Rose) Flower Extract, Citronellol*, Geraniol*, Linalool*, Citral*, Limonene*. *Naturally Occurring in Essential Oils.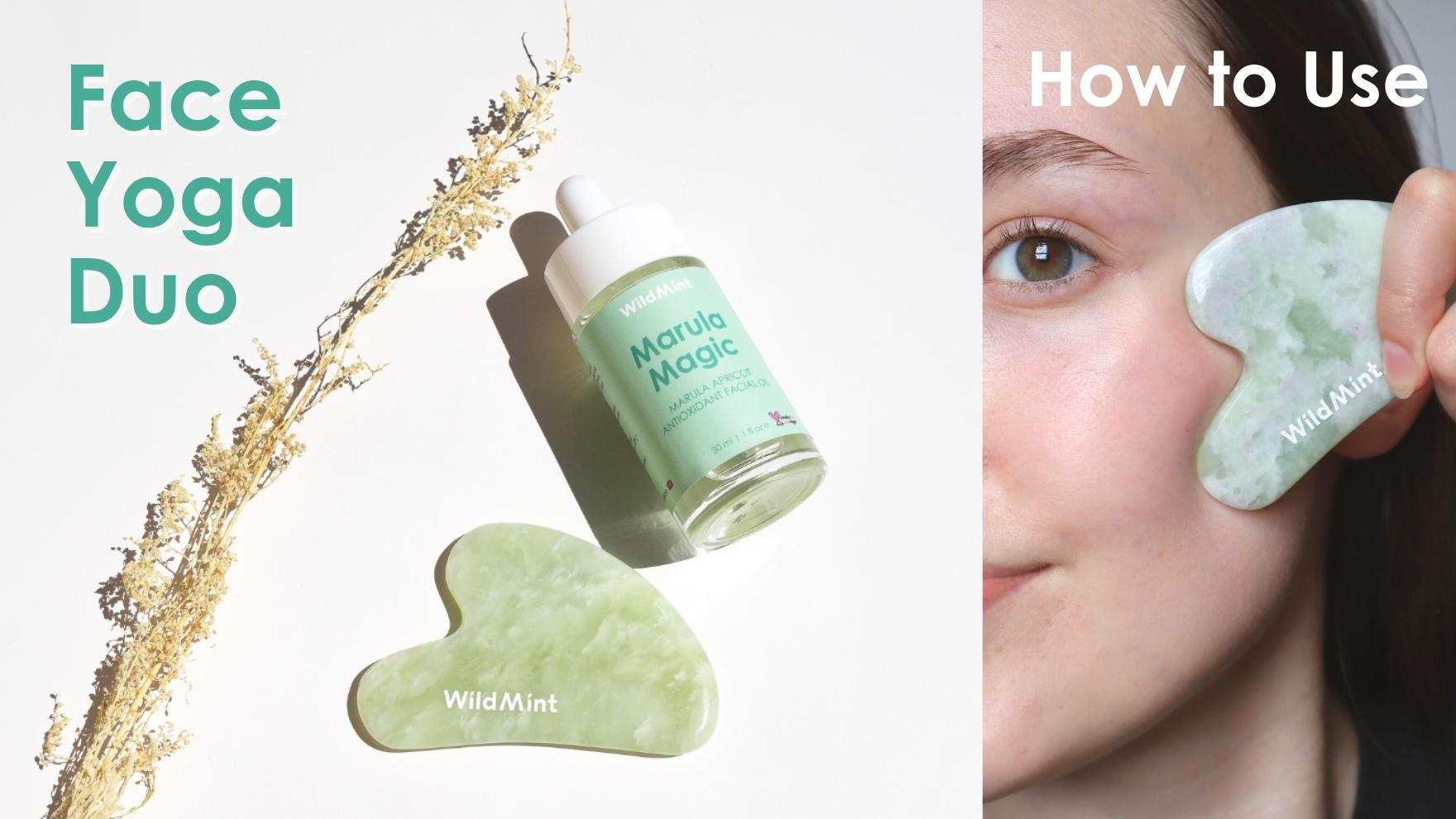 Damask Rose Oil
Deeply moisturizing and packed with skin nutrients, rose damask has a dreamy fragrance and a beautifying effect that leaves you with a fresh, dewy complexion.
Frankincense Oil
This natural astringent repairs and protects skin cells while also helping to lift, tighten and tone. It also aids in preventing wrinkles, clearing acne, reducing pore size and fading dark spots.
Rose Geranium Oil
With a sweet and uplifting scent, rose geranium is known for its ability to balance oil production, tighten pores and eliminate acne-causing bacteria, while also soothing and rejuvenating skin.
Marula Oil
Easily absorbed and packed with free radical-fighting antioxidants, marula oil famously nourishes, hydrates and rejuvenates skin to reveal its highest glowing potential.
Apricot Kernel Oil
Contains skin softening properties that enhance skin elasticity and support natural moisture balance.
This product has no reviews yet.